DURABLE & BEAUTIFUL VINYL FLOORING SOLUTION IN PICKERING
Being the most important foundation of a home, if the flooring is exquisite, everything will fall into place just fine. With heavy foot traffic, water spillage, food, and other things spewed on the floor by kids- our flooring needs to be sealed and protected with luxury vinyl tile. East Can luxury vinyl flooring Pickering comes in various sizes and finishes to give your floor an oomph while doing the job it's supposed to.
Vinyl floor tiles are the best of their kind due to their versatility and affordability. They come in various shapes, sizes, finishes, and sheens. From sheets or tiles to different grades of hardwood or laminate or vinyl floor tiles, you can get anything that your pocket permits.
Explaining Vinyl Floor Tiles
Vinyl is a sturdy substance composite of rubber, PVC, linoleum. It is low-maintenance and cost-effective with a variety of finishes such as marble, wood, ceramic, and concrete. Due to being waterproof and durable, waterproof vinyl flooring is the best suited for any home with a tight budget to make it look magazine-worthy.
East Can Flooring offers custom colors, finishes, and sheen level at a competitive price, making us the best in business in Pickering. We provide luxury vinyl flooring in hardwood variants such as maple, red and white oak, birch, beech, hickory, walnut, acacia. Vinyl flooring is the best to place your bet in if you are remodelling your home or making it from scratch.
With luxury vinyl planks or vinyl tile flooring, you are giving your feet extra comfort with their hardness while maintaining the look of luxury. For a do-it-yourself installation, you can purchase our interlocking planks or groutable luxury vinyl tile. Luxury vinyl floor tiles can be placed over old flooring,  cement slab floor, old tiles, or even over concrete walls to avoid the traditional colored walls.
Types of Luxury Vinyl Flooring
Our professionals will suggest to you the right vinyl flooring in Pickering which you can install on your own in a few days with longer durability. The choices we offer you are:
👉 Sheet vinyl: Being sensitive to underfloor conditions, vinyl sheet flooring is suitable for smooth surfaces. It is perfect for do-it-yourself missions where you can easily install them onto walls and corners without spending much time maintaining any design. Just place them and stick them, you are ready to go.
👉 Luxury vinyl plank: The renowned LVP is waterproof, durable, and pliable. It comes in both wooden and stone finishes with various designs. You can create a luxury look with various patterns and designs with click-clock planks or peel-and-stick planks for hassle-free installations. Some waterproof vinyl flooring also offers a cork layer for extra comfort and warmth. Place them over existing tiles or walls for a quick fix.
👉 Engineered vinyl plank: The EVP comes with narrow, wide shapes in various widths and colors. You can mix and match various shapes and colors of engineered vinyl planks to give a natural hardwood flooring look.
👉 Engineered vinyl tile: These are engineered to give the look of stones, marbles, or ceramic tiles. Usually coming in squared sides, they are to be grouted to give the glossy look of marbles and tiles.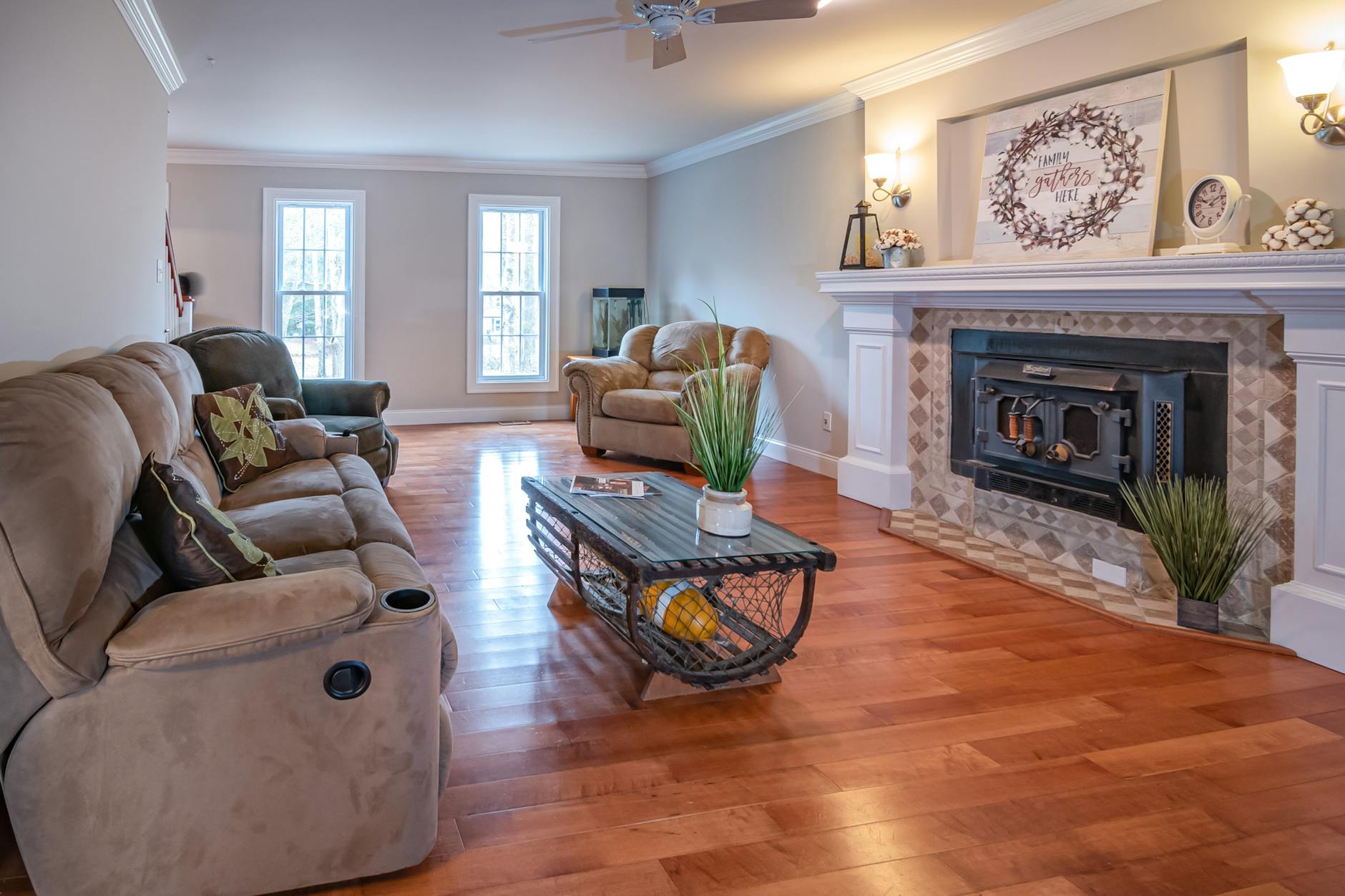 Knowledgeable and Dedicated Vinyl Flooring Specialists
East Can Flooring pros provide you with craftsmanship, administration, and dependability because they want you to have a feel of luxury without spending like a spendthrift. Customers reach us from miles away for our unabashed, competitive price with customizing reliability. We are here to guide you every step of the way.
Pros of Luxury Vinyl Flooring Pickering –
Great for do-it-yourself installation
Aesthetic appeal pushes boundaries to create a modern look
Durability
Hassle-free maintenance, i.e., great for people with children
Acoustic setting providing quiet footing for open office plan of a home with small children
Waterproof flooring
Comfortable during colder months proving extra padding and comfort to your feet
Affordability
Things to Keep in Mind before Purchasing Vinyl Floor Tiles
👉 Cost: Sold per square foot, the economic vinyl floor tiles range from $1-$14 for various shapes and finishes.
👉 Taking measurements: Go by this rule "measure twice. cut once", and you will save a lot of cash. It applies to stairs, walls, and floors.
👉 Moisture concerns regarding vinyl: Always check the moisture and humidity level in the room. The floor and walls need to be sealed and built to accommodate vinyl tiles and planks. Excessive moisture cannot hold vinyl for long leading to molding problems. Always test with a single vinyl tile stuck to the floor with a duck tape before buying in bulk.
Maintenance Tips
Wait at least 24 hours after installation for cleaning so that moisture does not mix up with the adhesive or grout.
Do not use abrasive detergents, chemicals for cleaning. Simple soft-bristle brooms will do, if you are using a vacuum cleaner turn off the beater bar to avoid scruffing.
Use placemats and rugs on the floor to deter it from any spillage. If any liquid spills, clean promptly to avoid moisture soaking in. You can use apple cider vinegar or regular vinegar to clean spillage so that it evaporates after cleaning.
Use a damp mop to clean away dirt and grimes.
Discover the perfect luxury vinyl flooring solutions in Pickering, Scarborough, Markham & Bowmanville for your home or business.